Priorit.io data explained
One of the key metrics of Priorit.io is the Company Fitness Index®.
Why should You care about Your Company Fitness? As in your personal life in business too, the more fit you are the faster, stronger, and more resilient you become.
How-to videos
Want a better understanding of how Priorit.io works? Take a closer look at the product with these videos.
Company Fitness Index®
Company Fitness Index® measures the fitness of your company with a rating of 0-100. The target state for every measure is 80 or more.
Company Fitness Index® combines the following measures:
Efficiency: the organization, processes, and co-operation. Efficiency produces results - it's all about balance and continuous improvement.
Capability: the ability to work, know-how, and motivation. Improve your team's capability and you'll see an improvement in efficiency.
Leadership: the management of things, individuals, and teams. How leadership serves company efficiency and capability.
Every measure of the Priorit.io Company Fitness Index® is tied together. If you improve one of them, you'll see the results in others.
The rule of thumb: Always start with strengths and opportunities.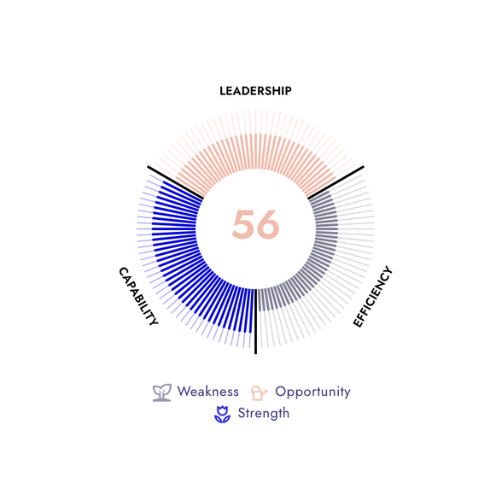 Score 40 or less, is a weakness, immediate actions needed
Score 40-60 is an opportunity
Score more than 60 is a strength - aim to 80!
Company Culture
Priorit.io analysis evaluates culture by four types. The analysis describes their mutual relations in % shares. The sum of the shares is always 100%.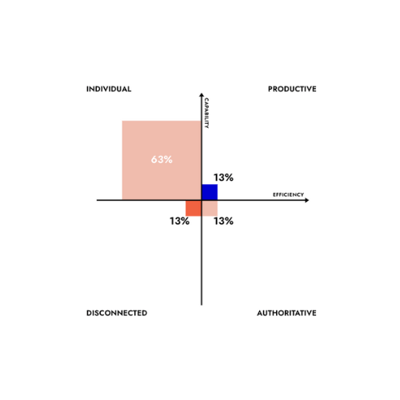 The four types of cultures are:
Disconnected

in which the purpose, goals, and rules are unclear.
Authoritative

which can be negative or positive. In negative culture, the leadership is commanding and harsh, and in a positive clear, equal, and purposeful.
Individual

which too can be negative or positive. In negative culture, work is done by individuals' own rules, and in a positive one, there is a natural adherence to common rules.
Productive

culture creates an opportunity for the simultaneous strengthening of capability and efficiency.
Input map
The input map shows how the views of the staff and management are aligned. The closer they are to each other the better. The closer the points are to the outer ring the better.
Tasks
Priorit.io will suggest concrete tasks on how to improve your efficiency, capability, and leadership. You can also add your own tasks and invite your team to prioritize and complete them.
Data-driven management in a nutshell
1. Culture

Tells whether the company's strategy is doable in the everyday life.

2. Company Fitness Index®

The overall condition of the company's business.

3. Business measures

How the company meets the customer expectations:

NPS

Average purchase

Customer loyalty

4. Company finances

How profitable the business is:

Turnover

Gross margin

EBITDA
EXPERIENCE FULL PRIORIT.IO!
Priorit.io is a data-driven leadership tool. With Priorit.io data you turn business intelligence into intelligent business.