Priorit.io Seed Round Opened!
Priorit.io is a SaaS tool for data-driven leaders. The product is out, the first paying customers are acquired, and it's time to scale up the business.
The Problem
SMEs aren't growing. They lose out on investors, pro services & support, and top talents. Almost every leader understands the importance of data, but only less than 2% actually benefit from it in their leadership. This is mostly because of the lack of tools and knowledge.
4/5 SMEs aren't growing after reaching $2M in revenue
90% of the companies globally are SMEs
98% of leaders want to be data-driven, but don't know how
The Solution
Priorit.io is a SaaS tool that helps business leaders analyze, measure, monitor, and support sustainable growth with relevant data and get specific guidance to achieve it - while keeping people at the center.
4% improved EBITDA after a year on average
10x minimum ROI
95% faster data gathering compared to traditional methods
Antti Suikkanen
CEO
Accomplished leader with 15+ years of experience in leadership, entrepreneurship, consulting, and expert positions in the manufacturing industry. Employed 100+ people as an entrepreneur and CEO.
Jani Hautanen
CTO
Tech enthusiast with 20+ years of experience in the substation industry and software development. Saved 100+ tech projects from failure to success.
Markus Lehto
CGO
Communications professional with 10+ years of experience in SaaS-specified marketing and sales. Built a startup from zero to international exit.
Katariina Hannukainen
UX/UI Designer
Creative designer with +5 years of experience in design lead. Elaborates users' needs into user-friendly flows to deliver the best accessible user-centered systems.
Eemil Sonninen
Jr. Product Manager
The truth
about the state of any company lies in every employee's experiences, not just management's. That's why Priorit.io is needed.
Olli-Pekka Lumijärvi
Business advisor
Managing partner at TATA Consultancy Services
Timo Helosuo
Law & IPR advisor
CEO at Kolster
Tom Miller
Financial advisor
Head of Business Development at TietoEvry
How Priorit.io Works?
Gain sustainable growth for Your capability, efficiency, culture, leadership, and eventually business.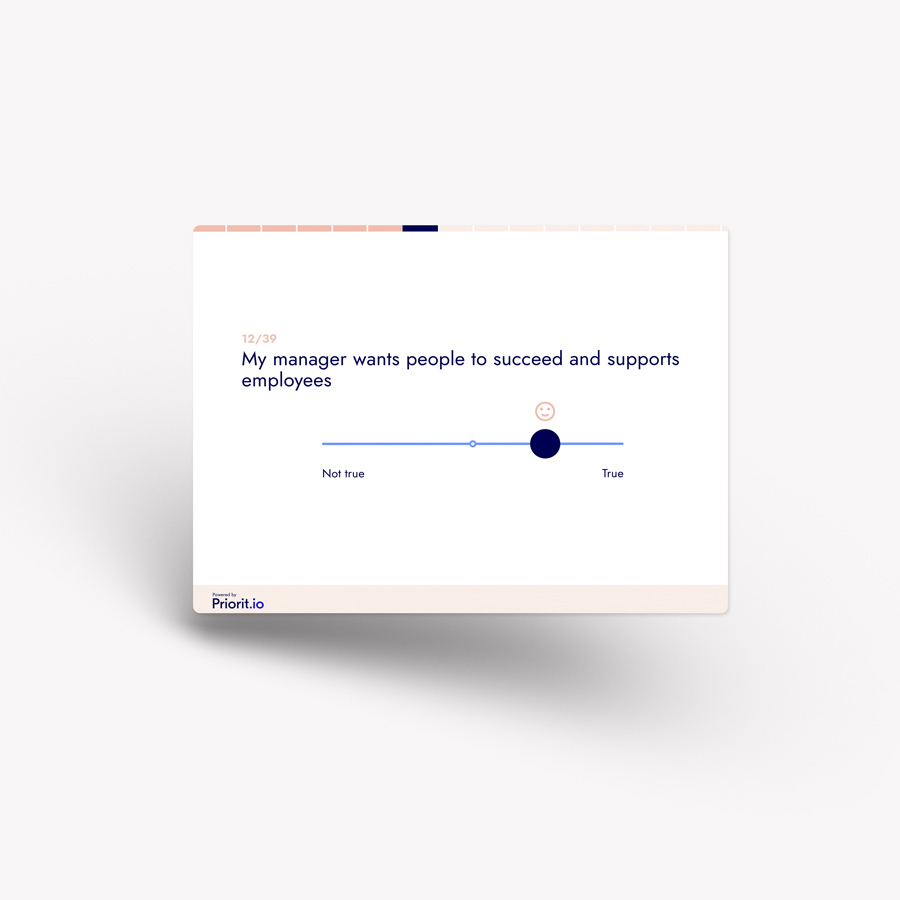 1. Collect data
Involve your talent and ask them what they think about their work right now.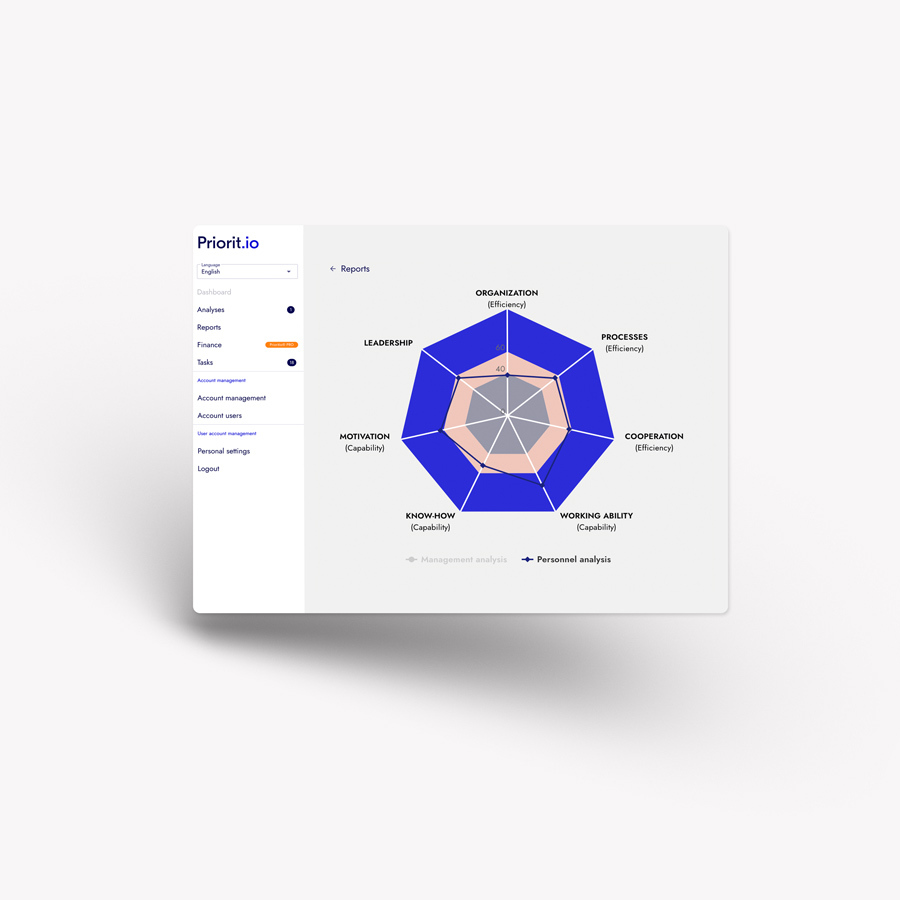 2. Analyze
Find out your company's current condition in factors that matter.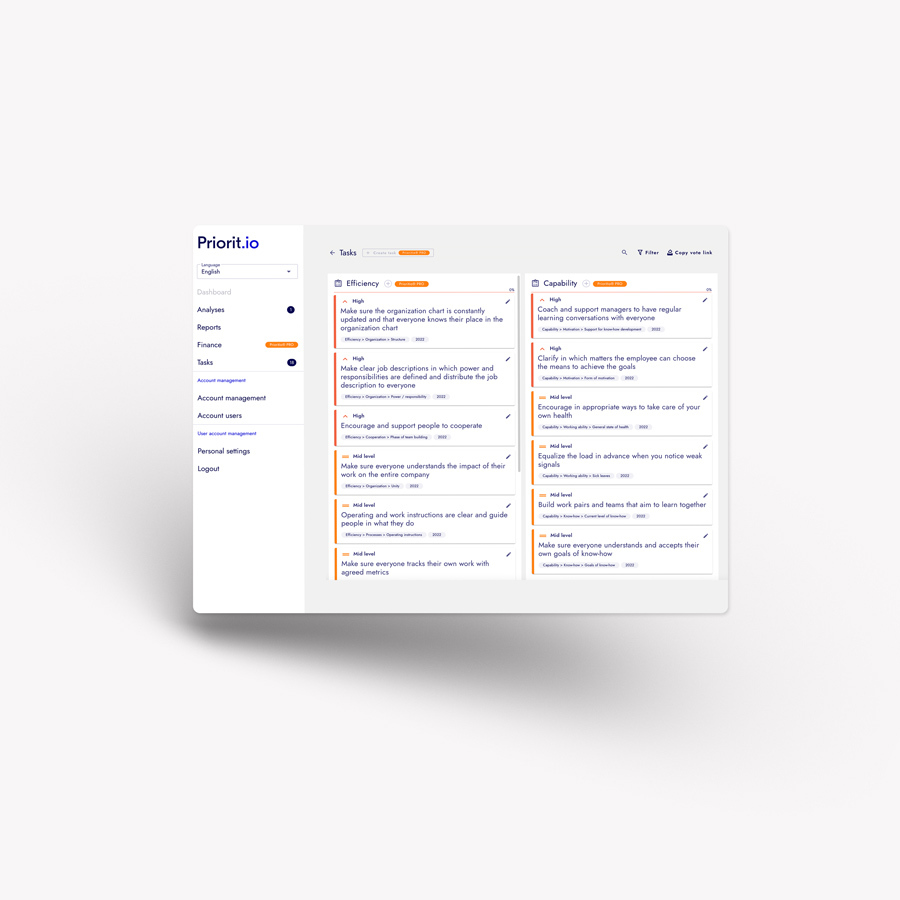 3. Get a To-do list
Find out what to do next in order to build a better business.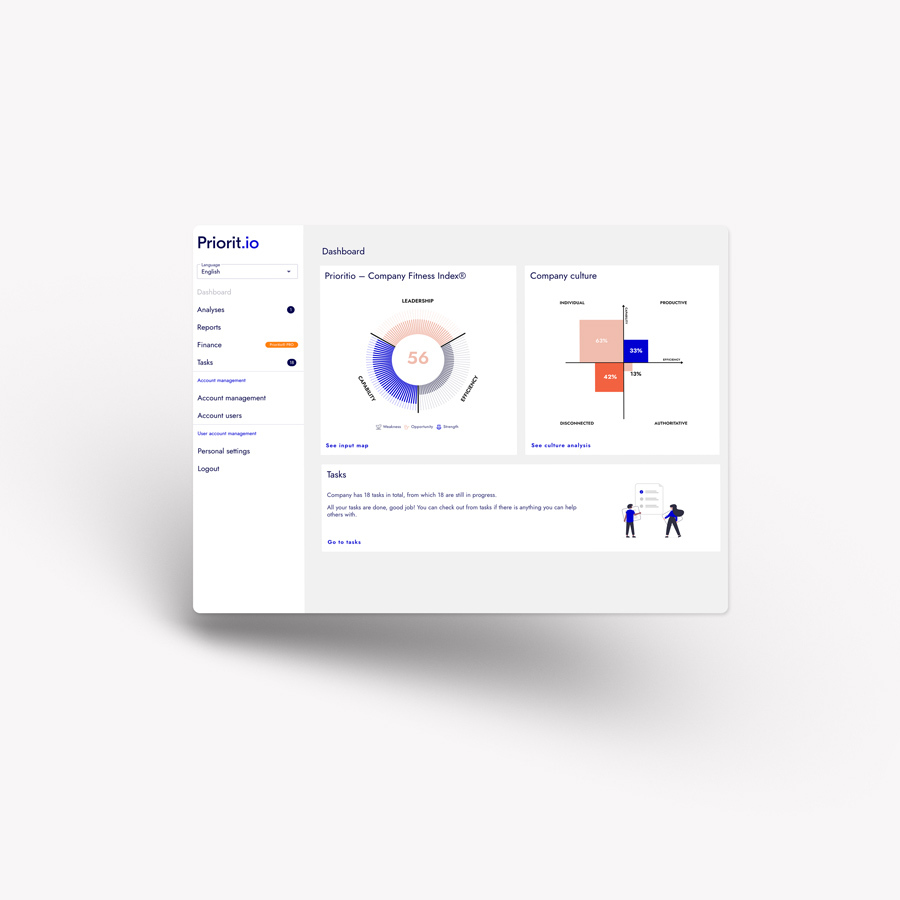 4. Evaluate
Follow how your development process affects your business.
Competition & positioning
Measure and analyze operational company culture

Combine leading and lagging indicators

Show a holistic view of the company's condition based on a balanced scorecard
Offer a specific roadmap for sustainable growth

Bring enterprise-level data available to everyone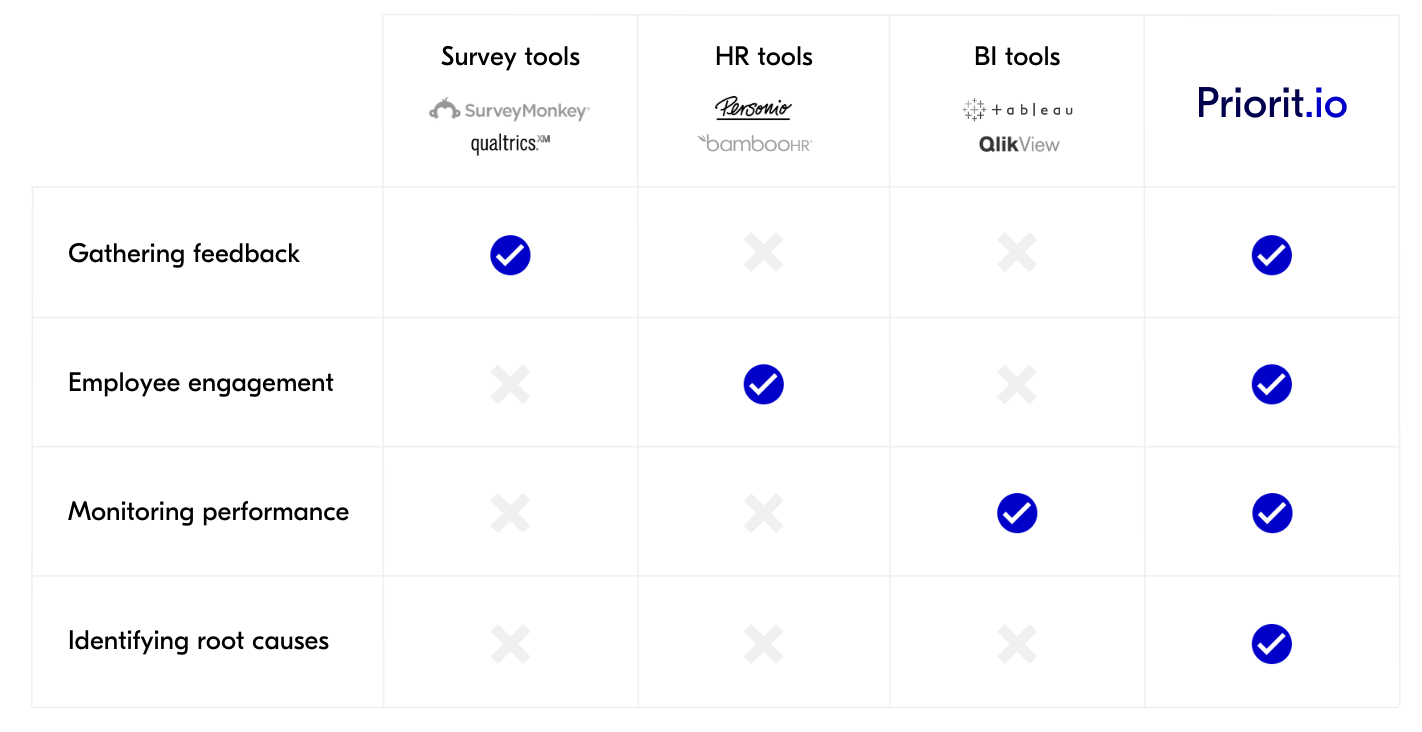 Perfect match for data-driven leaders
SME leaders to make the best possible decisions based on data
Board members to see what's under their company's hood
Supply chains to ensure that suppliers are capable of delivering at the right time, with quality
Financiers & VCs to make sure their customers or portfolio is fundable
Large enterprises to measure and compare their units across the Globe
Market Potential
Ideal Customer Profile
Growth-oriented C-level leader who has decided to lead based on data. Understands the personnel's role in the process.
SME's +$2M in revenue, +20 personnel
Most prominent markets*:
US, Nordics, Netherlands, Germany, and UK
*Market research, Palava Global, summer 2022
Further discussions?
Questions, comments, ideas, etc. Book a meeting with us and let's start off from there.